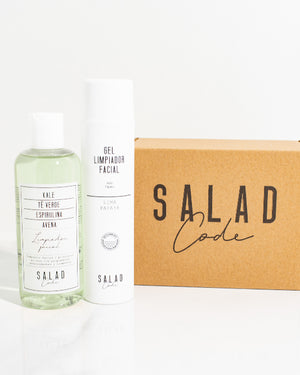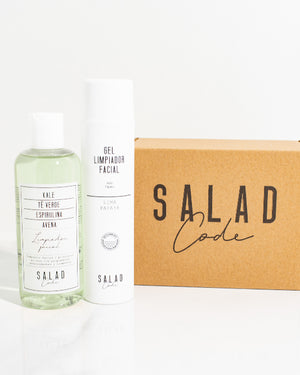 On Sale
"GREEN BEAUTY" DOUBLE CLEANSER PACK
.
About the Pack
Specifically designed for extraordinary deep facial skin cleansing in just two steps!
Who doesn't like to be told: "your skin is radiant". This is very easy; you just have to establish a good daily facial cleansing routine. First use our facial cleanser gel; you will notice that your skin feels fresh, clean and toxin-free. You will enjoy its lovely, very light foam that has a wonderful natural citrus aroma that you will adore. The second step is to use our kale facial cleanser to clean and tone your skin. Read about more benefits of this pack below.
It is made up of
CLEANSER GEL
It gently removes make-up and cleanses your skin with active ingredients such as: Lime, Papaya, Aloe Vera, Jojoba Oil and Rice Bran Oil. Using it on a daily basis will enhance skin hydration, making it softer, smoother, and you will see how the excess sebum disappears, because it is a sebum-regulator. Its high vitamin content and its antioxidant effect will rejuvenate your skin and protect it from the daily effects of pollution. It relaxes the skin and it calms any type of rash or inflammation. You will love its refreshing citrus aroma and its light texture when you massage it into your skin.
150 ml
FACIAL CLEANSER
You already know the benefits of using it; it has a liquid, very fresh texture. It cleans and tones your skin after using the cleanser gel. It does not irritate the skin, it is especially recommended for sensitive skin, thanks to its oat content. If you use it consistently, it will soothe any type of skin rash. It is a sebum-regulator, so it helps combat acne and impurities. Daily use prevents oxidative stress, because it contains antioxidants such as Kale or Green Tea. It contains proteins, vitamins and spirulina that tones the skin and supplies it with essential trace elements such as calcium, iron and magnesium, which are essential to detoxify and rejuvenate your skin.
250 ml
Key Ingredients
LIME
It improves the skin's hydration and flexibility. The acid of the fruit also has soothing and antimicrobial properties for the skin. It is suitable for oily skin and open pores thanks to its astringent properties, because it regulates and balances the production of sebum. It has a high vitamin C content, which means that it has lots of antioxidants that help rejuvenate the skin. It has a soothing effect and it lightens dark skin spots to even out skin tone!
PAPAYA
This is very popular to clean skin that is prone to acne and impurities, thanks to its keratolytic effect. Due to its high vitamin content it is always included in products that protect, hydrate and revitalize the skin.
It contains Papain and vitamin A, which eliminates the impurities of the skin and retains water to help keep the skin hydrated and radiant. It contains carotenoids, which are important to have a nice tan or activate it when the skin is exposed to the first rays of sunshine. It is a natural exfoliant and it has beneficial antiaging properties for the face.
ALOE VERA
This plant has been used since ancient times and it is an incredibly effective product that is used in cosmetics. It is classified by many as being a miracle of nature!
It has healing and anti-inflammatory properties. It is known for being a good moisturizer and an emollient because it helps skin retain water. It also has astringent and antibacterial properties that eliminate excess sebum and therefore help combat acne.
JOJOBA OIL
It is an emollient that balances the skin's pH, to make it look healthier.
It has powerful revitalizing properties, it is a sebum-regulator, so it regulates sebum production, it calms skin rashes and helps combat the dreaded spots caused by hormone changes. When jojoba is used on the skin, it favours exceptional transepidermal respiration and moisture control. It has antioxidant properties and it is extremely effective at neutralizing free radicals and slowing down the appearance of wrinkles.
RICE BRAN OIL
It is deeply hydrating, it is an emollient, it has a soothing effect on the skin and it is packed with vitamins! It favours the production of collagen and it is a powerful antioxidant. It is suitable for mixed or oily skin. It is quickly absorbed into the skin and thanks to its astringent properties it is a good anti-inflammatory, which means that it is a good remedy for puffy eyes and dark circles.
KALE
It is a powerful antioxidant that has lots of phytonutrients and vitamins A, C, E and K. Kale makes your skin glow and look fresh.
The phytonutrients are organic components that are found in plants and they have beneficial and protective properties that help you maintain your vitality. They are found in fruit, vegetables, garden produce and pulses.
GREEN TEA
It has high concentrations of polyphenols, especially the catechin type of phenolic compound, which makes green tea a powerful antioxidant. The polyphenols help prevent free radical formation that occurs in the cells, that is to say, they stop the reaction that occurs and repair the damage that they might cause. This property makes it a "top" substance against skin ageing.
SPIRULINA
It is in fashion and it deserves to be! This alga contains 65 % proteins and a lot of the vitamins B1, B2, B3, B5, B6 and E. This spirulina algae is an excellent source of numerous minerals and essential trace elements such as calcium, iron, magnesium, manganese, phosphorous, potassium, zinc, etc…It has a purifying effect on the skin and it prevents skin ageing. It tightens the skin and it is rich in iodine, which is perfect to clean and disinfect the skin. It tones, refreshes and relaxes the skin.
OATS
It has intense moisturizing and hydrating properties. It contains lipids and water absorbents that help hydrate the deepest layers of the skin so that it doesn't get dehydrated and dry. The result is much smoother and healthier skin. It can balance the skin's pH, and it has skin whitening effects that help to even out the skin tone and diminish dark spots and blemishes.
How to use
Day and night. Wet your face with warm water and massage the cleanser gel in gently. To remove the dirt and make-up use a cotton pad or a soft baby wipe. After that, rinse it off with lots of water and then you can tone your skin with a cotton pad soaked in our Kale facial cleanser, which will be the long awaited finishing touch so that your skin feels lovely, fresh and clean.
WHAT ARE PEOPLE SAYING ABOUT "GREEN BEAUTY" DOUBLE CLEANSER PACK?