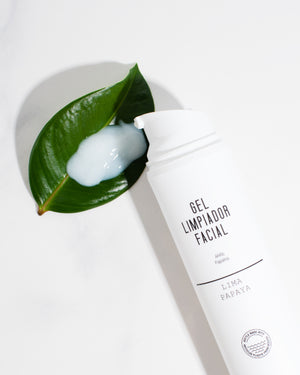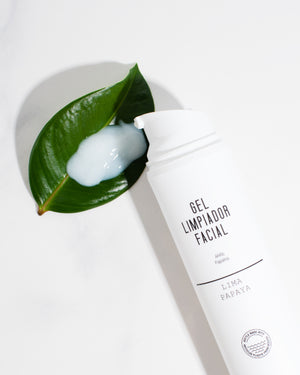 On Sale
.
About the product
It cleans effectively and gently removes make-up. It has a very pleasant texture, it is applied to damp skin and when you massage it in it forms very lovely light delicate foam that helps to keep your face clean. It is suitable for all skin types, even the most demanding skin (sensitive, reactive, with redness-rosacea, dermatitis).
It has a refreshing lime smell that will captivate you (at Salad Code we never use synthetic fragrances).
150 ml.
Key ingredients
LIME
It improves the skin's hydration and flexibility. The acid of the fruit also has soothing and antimicrobial properties for the skin. It is suitable for oily skin and open pores thanks to its astringent properties, because it regulates and balances the production of sebum. It has a high vitamin C content, which means that it has lots of antioxidants that help rejuvenate the skin. It has a soothing effect and it lightens dark skin spots to even out skin tone!
PAPAYA
This is very popular to clean skin that is prone to acne and impurities, thanks to its keratolytic effect. Due to its high vitamin content it is always included in products that protect, hydrate and revitalize the skin.
It contains Papain and vitamin A, which eliminates the impurities of the skin and retains water to help keep the skin hydrated and radiant. It contains carotenoids, which are important to have a nice tan or activate it when the skin is exposed to the first rays of sunshine. It is a natural exfoliant and it has beneficial antiaging properties for the face.
ALOE VERA
This plant has been used since ancient times and it is an incredibly effective product that is used in cosmetics. It is classified by many as being a miracle of nature!
It has healing and anti-inflammatory properties. It is known for being a good moisturizer and an emollient because it helps skin retain water. It also has astringent and antibacterial properties that eliminate excess sebum and therefore help combat acne.
JOJOBA OIL
It is an emollient that balances the skin's pH, to make it look healthier.
It has powerful revitalizing properties, it is a sebum-regulator, so it regulates sebum production, it calms skin rashes and helps combat the dreaded spots caused by hormone changes. When jojoba is used on the skin, it favours exceptional transepidermal respiration and moisture control. It has antioxidant properties and it is extremely effective at neutralizing free radicals and slowing down the appearance of wrinkles.
RICE BRAN OIL
It is deeply hydrating, it is an emollient, it has a soothing effect on the skin and it is packed with vitamins! It favours the production of collagen and it is a powerful antioxidant. It is suitable for mixed or oily skin. It is quickly absorbed into the skin and thanks to its astringent properties it is a good anti-inflammatory, which means that it is a good remedy for puffy eyes and dark circles.
How to use
Wet your face with warm water and apply the facial cleanser gel directly on your face and neck. Massage it in gently and remove the dirt and/or make-up with a cotton pad or a soft baby wipe. Rinse it off with lots of water and for excellent results, round off the routine with our kale, green tea, spirulina and oats facial cleanser. It can be used around the eyes.
Ingredients
*ALOE BARBADENSIS LEAF JUICE, AQUA, *GLYCERIN, DECYL GLUCOSIDE, GLYCERYL OLEATE CITRATE, SODIUM CHLORIDE, LAURYL GLUCOSIDE, CARICA PAPAYA FRUIT EXTRACT, CITRUS AURANTIFOLIA FRUIT EXTRACT, *SIMMONDSIA CHINENSIS SEED OIL, ORYZA SATIVA BRAN OIL, POTASSIUM OLIVOYL HYDROLYZED WHEAT PROTEIN, CAPRYLIC/CAPRIC TRIGLYCERIDE, MYRISTYL LACTATE, CARRAGEENAN, XANTHAN GUM, COCAMIDOPROPYL BETAINE, SODIUM PHYTATE, CITRIC ACID, SODIUM BENZOATE, POTASSIUM SORBATE, ALCOHOL, PARFUM, **LIMONENE, **CITRAL, **LINALOOL.
*Organic ingredient.
**Found naturally in the perfume.
WHAT ARE PEOPLE SAYING ABOUT FACIAL CLEANSER GEL?